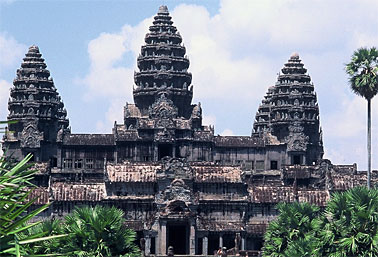 The ruins of Angkor are located to the north of Tonle Sap lake and south of the Kulen Hills, near the city of Siem Reap,
Angkor is one of the most important archaeological sites in South-East Asia.
The Angkor Archaeological Park contains the magnificent remains of the different capitals of the Khmer Empire, (9th to the 15th century), including the temples of Angkor Wat, Angkor Thom, and the Bayon Temple. Todayit is a UNESCO World Heritage Site.
Angkor was the ancient capital of the Khmer empire, in western Cambodia and one of the world's greatest cultural treasures, today the national symbol of the country,