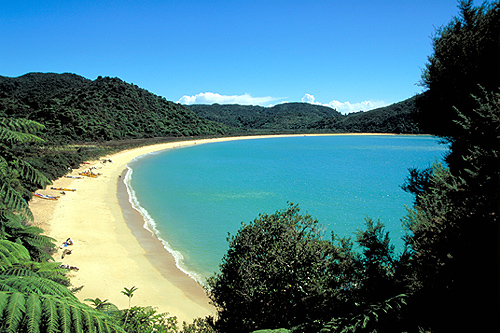 Description:
Located at the top of the South Island is one of New Zealand's coastal gems, Abel Tasman National Park. It is the smallest national park in the country but is big on scenery with some of the best beaches in the country. The park packs in picturesque bays, golden sand beaches, clear water, islands, native forest, and all this with a sunny climate.
Sea-kayaking is one way to see the park as you have access to all the beaches and coastal caves. The Abel Tasman Track is the most popular way to experience the park. It takes 3 - 5 days to complete and is considered as one of the country's top walks. It is also an easy walk compared to other New Zealand walks because it doesn't venture up hill very often and sticks close to the coast and includes most of the beaches too. There are also well maintained huts for sleeping overnight and amenities for preparing meals onroute. Another way to see the park is to use a sea taxi. They give you the option to be whisked away to a secluded beach or you can combine sea taxis and walking to give you the freedom to walk only the parts of the track that you want.
The park is named after Abel Tasman, who in 1642 became the first European explorer to view New Zealand. Motueka is the nearest large town which makes a good base before and after the walk. The small town of Marahau has the most popular entrance to the park while Totaranui is the other entrance or exit depending on which direction you take. While Marahau is east of Totoranui, often overlooked is Anapai Bay to Wainui Bay to the west of Totoranui. This area is still in the park and besides being much less travelled, it is even more pristine than the rest of the park due to little to no human interference.